Welcome to Sherman Family Farm!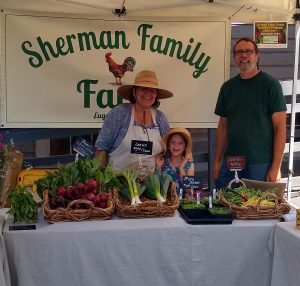 We met and married in the early 1980s with a dream that someday we would live in the country and raise our own food. Once our children came along, we got serious and traded a tiny suburban lot in Southern California for 10 rocky acres in the foothills of the Sierra Nevadas just outside of Yosemite National Park. Our four children grew up having fresh milk, eggs and produce from the small kitchen garden there.
In 2011 we moved north onto 20 beautiful acres just outside of Eugene, Oregon to be near grandchildren and start growing food on a larger scale. We are now a family-owned and operated, small-scale market farm. We strive to provide our community with a variety of quality, nutritious, and responsibly grown produce and chicken, duck and quail eggs.​
We follow organic and sustainable standards including organic soil amendments and fertilizers, diverse crop rotations, and cover crops. In addition to being on pasture, we feed our animals organic and/or soy- and corn-free, non-GMO feed and organic treats from the kitchen and fields.
We raise a variety of vegetables, salad & other greens, herbs, garlic, micro-greens, flowers, starts for your garden (vegetable, herb & flower), chicken and quail eggs. We also raise Icelandic sheep, Alpine dairy goats, various chicken breeds and Cotournix Quail. We also occasionally have livestock for sale such as Icelandic lambs, breeding sheep, Alpine goats and kids and wool from our sheep.​
Our belief in being stewards of the Earth informs how we farm.
We hope you can come visit us either on the farm or at the market!
Chris and Marie Sherman